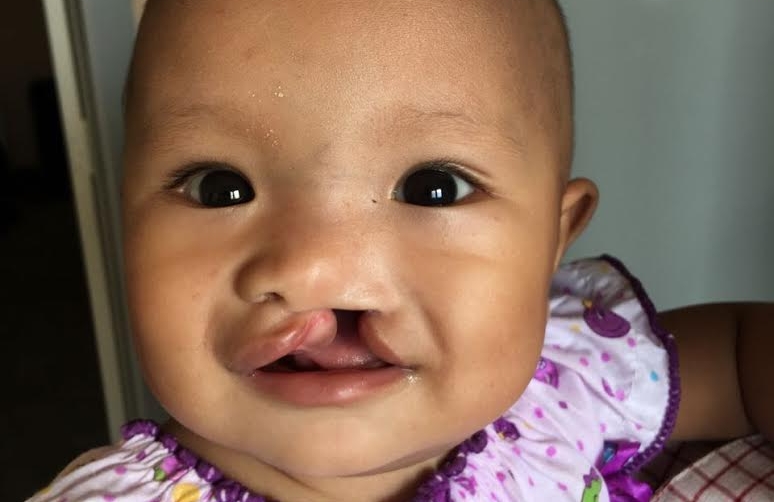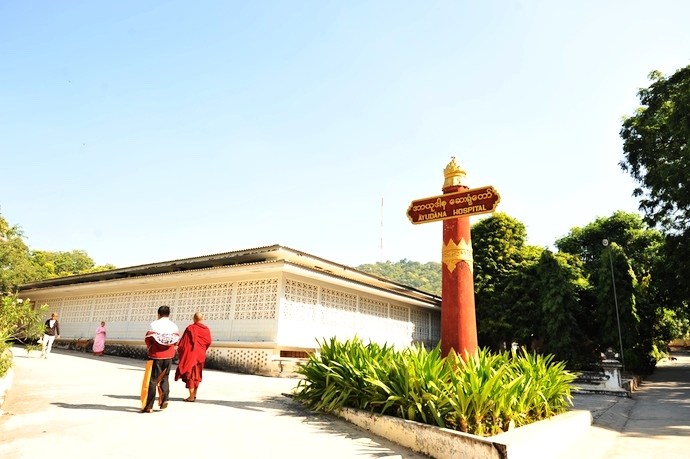 After the first fruitful mission to Sitagu Ayudana Hospital in november 2014, The Cleft Surgery Organisation once more provided the hospital with a cleft lip and palate team in the period of November 18th until November 23rd. In four and a half days a total of 53 patients were operated on. Under the leadership of the medical superintendent, dr. Khin Maung Zaw, operating facilities had improved even further since the last time, providing the team with more than acceptable facilities to perform surgery.
Patients with cleft lip and palate arrived from all places in the wide region coming from urban backgrounds as Mandalay (population 927 thousand) or remote rural areas. Patients were recruited by local hospital staff and preoperatively assessed by our anaesthesiology team.
Most patients were in the age group of 6 months to one year. However, in selected cases almost exclusively coming from distant rural areas primary cleft surgery was performed on older children and even young adults. Surgical plans were determined taking into account patient age, growth, speech function and development, but also remoteness of residence and distance of travel to the Sitagu Ayudana Hospital.
All surgeries went uneventful. Fifty of them took place under general anaesthesia, two in local anaesthesia and one patient suffering from decubitus on the tailbone was operated on using spinal anaesthesia. Our Belgian/Dutch team was excellently assisted by local scrubnurses and anaesthesiology nurses.
Resuming, the 2015 mission to Sagaing has yet again been a success. A great number of patients and their families have been helped significantly and our team took great pleasure in working at the Sitagu Aydana Hospital, interacting with local staff and patients. The 2016 mission to Sagaing will be planned shortly and the entire team is very much looking forward to returning to Myanmar once again.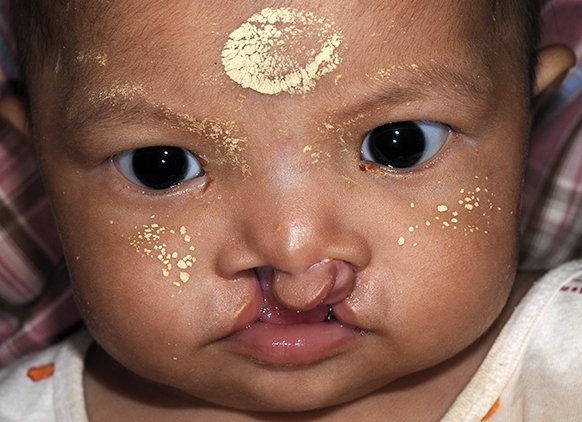 This is going to be an exciting trip as it is the first time we will visit Myanmar. We increased the size of our team because we have been told the number of patients will be large. Beside Dr Bart van de Ven also Dr Robert van Es and Prof. Dr Ron Koole will perform surgery. Doctor Ellen Defrancq again will take care of overall organisation: She will take the pictures, makes our planning, arranges all necessary materials, assists in surgery and will communicate with parents on operations done and next steps. For anaesthetics dr. Volker Gerling has joined the team and Henk and Yvonne Geerlings are anaesthetist nurses.
We visit the Sitagu Ayudana Hospital, located in Sagaing Hills near Mandalay, which is part of a monastery. The Sunday afternoon we arrive, a lot of children and their parents are already waiting for us.
In high speed the children are investigated by the surgeons and is judged which operation fits best.
After that a short medical screening takes place to determine the anaesthesia needed. This combined info is used to define a planning for the days to come.
We have 5 days to operate and 3 operation tables in one single room available for use. The Hospital disposes of qualified machines and the flow of patients is well organised. The local nurses are very helpful and the colleagues in the surgery team cooperate in a very efficient way.
Our working days are long but we are happy to be able to do the job. We sleep in the hospital's guest rooms where we receive our breakfast at 7 in the morning. At 7:30 we are in the OR and start with our first patients.
During this week we have operated 42 patients and as reward we can join most of these patients on a picture taken on Saturday morning. After the photo session we see all patients once more before driving towards the airport for our long journey back home.
This was a very rewarding week in which we have been able to work without problems. Of course a number of these children will need one or more additional operations. In November 2015 we therefore plan to go back to this hospital and hope to follow up on surgeons started.
We have seen many happy parents and that makes us very happy too.
We wish to thank everyone who donated to the Cleft Surgery Foundation very warmly. Without your contribution this work would not have been possible!
Kindest regards,
The Cleft Surgery Team
This journey goes to our well-known Kenya. We will visit the coastal area south of Mombasa where we have been performing surgery for 1 day last year. The team consists of: Dr. Bart van de Ven, Dr. Ellen Defrancq, Henk Geerlings and Yvonne Geerlings, both anesthetist nurse.
Although we were available for 5 days of operation, the organisation surrounding this kind of projects as usual invoked a lot of practical problems.
Our contact person, Dr. Stan Kinsch, is orthopedic surgeon and inhabitant of Kenya for many years. Also he appears to have no idea how many patients will be available as it's always unsure how many people will show up at the hospital.
Monday morning Dr. Stan picks us up for seeing some patients at the Mwsambeni Hospital. Unfortunately only one infant is present and it takes many phone calls to find out the rest of the patients are still on their way to Mombasa.
We continue our journey to Kwale County Hospital, where only 2 patients are waiting. Alas one child is just 4 months old and therefore too young for surgery.
As it may take another couple of hours before the other children will arrive, we decide to go for a drink and wait.
Around 2 pm the children finally arrive. There are 10 of them together with their mothers stacked in an ambulance.
Unfortunately one of this group is too young aswell, one has a completely different medical problem and another has too many defects to withstand narcosis safely.
The life of the child is always more important than the operation.
With 9 children we start planning. Practice learns normally more patients will arrive during the week we are present.
On Tuesday surgeries start. At the Msambweni County Hospital we can operate 4 children. The Hospital has 2 operating rooms and is reasonably well organized. The staff is supportive but facilities of course are incomparable to the Hospital standards we are used to in Europe.
Another draw-back is that on Wednesday no operation room appears to be available for us.
Ellen and Bart spend their day on administration tasks and working on the Foundation website. Henk and Yvonne join dr. Stan in visiting the children that were operated the day before. Afterwards they have the opportunity to visit the operation department and see how medical staff normally works.
Thursday and Friday we operate in the Kwale County Hospital: a small hospital with just one operation room but a well-functioning air-conditioning system in the OR which is a true luxury!
Friday at the end of the day we once more visit at all the children we have operated to see how they are doing and instruct the nurses on pain treatments, wound care, nutritional options and conditions for release from the hospital.
Parents again is explained what kind of surgical treatment has been performed and that for some of them a 2nd operation is required for next year.
To our regret the number of children we were able to operate this week was low but we hope to increase the number for next year through improved mouth-to-mouth promotion.
Clear communication on the fact that surgery is completely paid by the Cleftsurgery Foundation had been lacking. Very sad because probably several children didn't show up as their parents believed they couldn't afford the surgery.
Cleftsurgery Foundation's aim is to ensure surgery to every child that needs it and offer them a better future!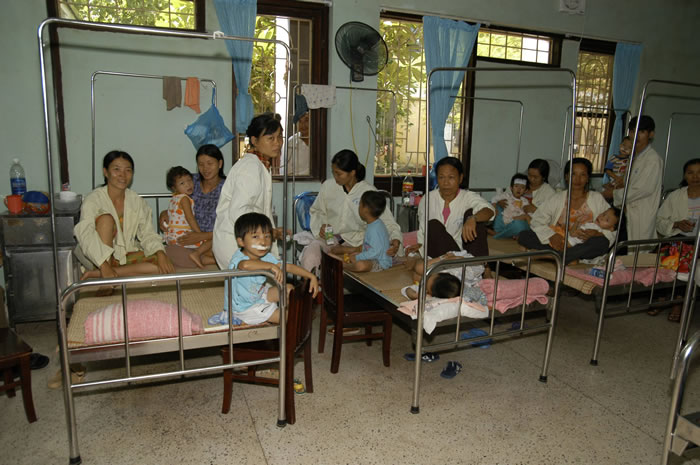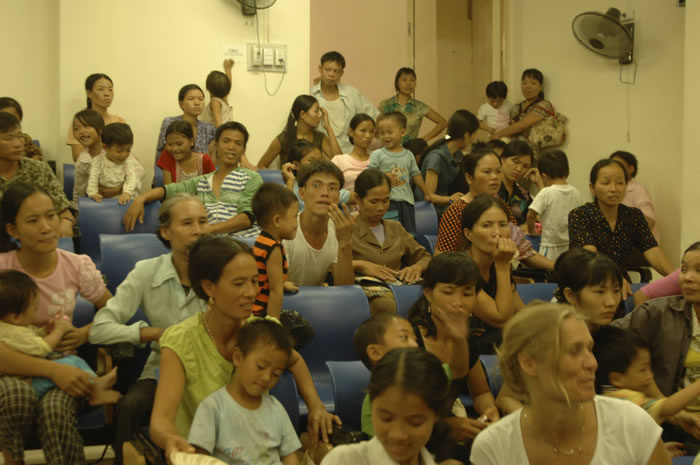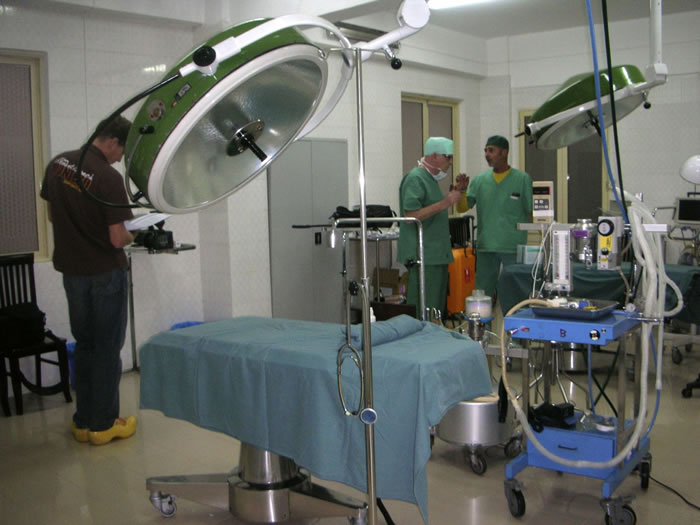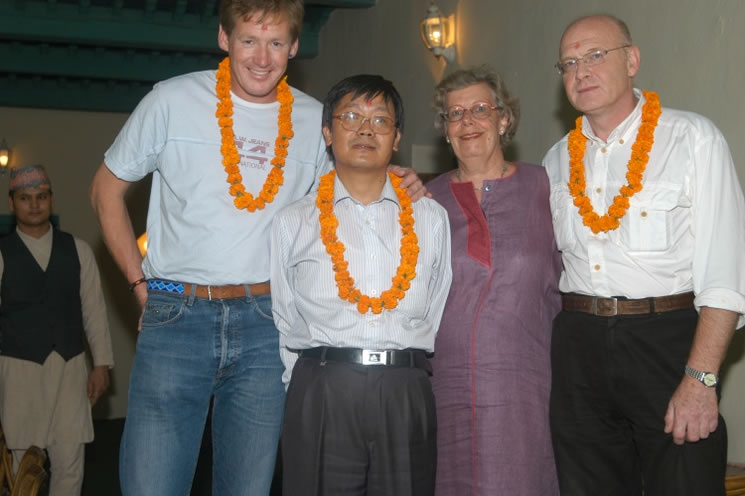 kenya, nepal and vietnam 2004